Crypto's Love-Hate Week With Elon Musk
What You Need To Know
The crypto market was almost set for a quiet end to a somewhat constructive week … when Elon Musk struck again.
The Tesla CEO tweeted another cryptic message Friday, with a broken-heart emoji and Bitcoin, and sure enough the largest cryptocurrency dropped. That helped kill a modest rally that had been building toward the end of the week and taken Bitcoin above $39,000. The 200-day moving average around $41,500, and even the round-number $40,000 level, are proving to be difficult hurdles in the past couple of weeks.
Bitcoin's struggles — as well as Ether's outperformance and upgrades — have renewed talk about "the flippening," or the idea that Ether might eventually overtake Bitcoin's value. There's a lot of mileage to cover before that happens, with Bitcoin's market value around $690 billion and Ether's around $310 billion, but some say that Ether's trajectory and the upgrades to the Ethereum network put it in reach.
Click here for more on the top two cryptocurrencies.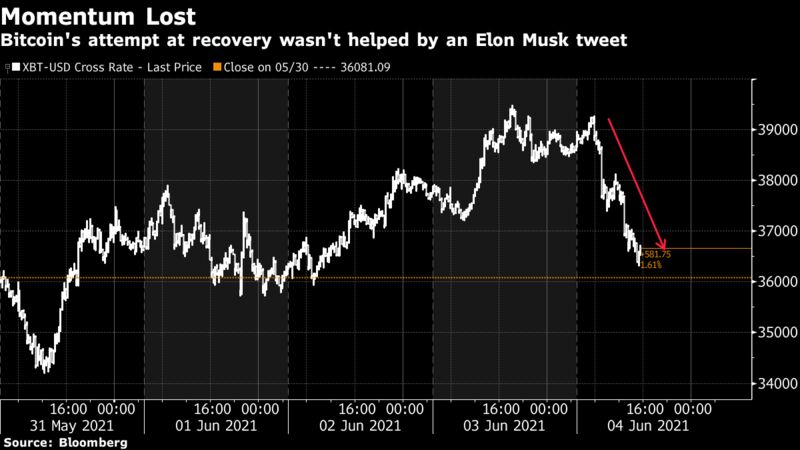 By The Numbers
$5-$10 billion

Daily international trade that Bitcoin Foundation Chairman Brock Pierce says is being settled with Tether

$41,550

Bitcoin's approximate 200-day moving average

50%

Dogecoin's drop from its record high of 73. 2 cents in early May
Why It Matters
Now for a little fun. Yep, with Dogecoin. Coinbase says the cryptocurrency started as a joke in 2013 is now available on Coinbase.com and its apps. That gave a boost to the token, which is sitting on an 11% gain for the week. It didn't hurt that Musk was tweeting about the Shiba Inu-themed coin, too. In about two days his post had almost 400,000 likes or retweets.
Click here for an explainer about Dogecoin.
One trend that appears to be speeding up: Central banker comments about cryptocurrencies and digital currencies generally. Last week it was Bank of Japan Governor Haruhiko Kuroda, saying much of the trading is "speculative" and volatility high. A top official at Ireland's central bank said the rise of crypto is of "great concern," while a Singaporean official said it's "so volatile and so complex." The Reserve Bank of India expressed its own reservations about the asset class. While some crypto bulls may not be too happy about the interest from these officials, it's unlikely to go away anytime soon given crypto's increased importance and attention.