DAO Maker and COTI Technical Analysis: Do Buyers Have a Chance?
DAO Maker prices are consolidating above $4.3 and look bullish. Meanwhile, COTI is firm above $0.30 within a broader bear breakout pattern.
DAO Maker
Funding through the DAO Maker platform drastically slashes risks for investors and projects. DAO is the main currency for this platform.
Past Performance of DAO
The DAO Maker token has been relatively firmer, with decreasing selling pressure in the past few days. Even so, DAO crypto prices are below a critical support line—a formation favoring sellers.
DAO Maker Technical Analysis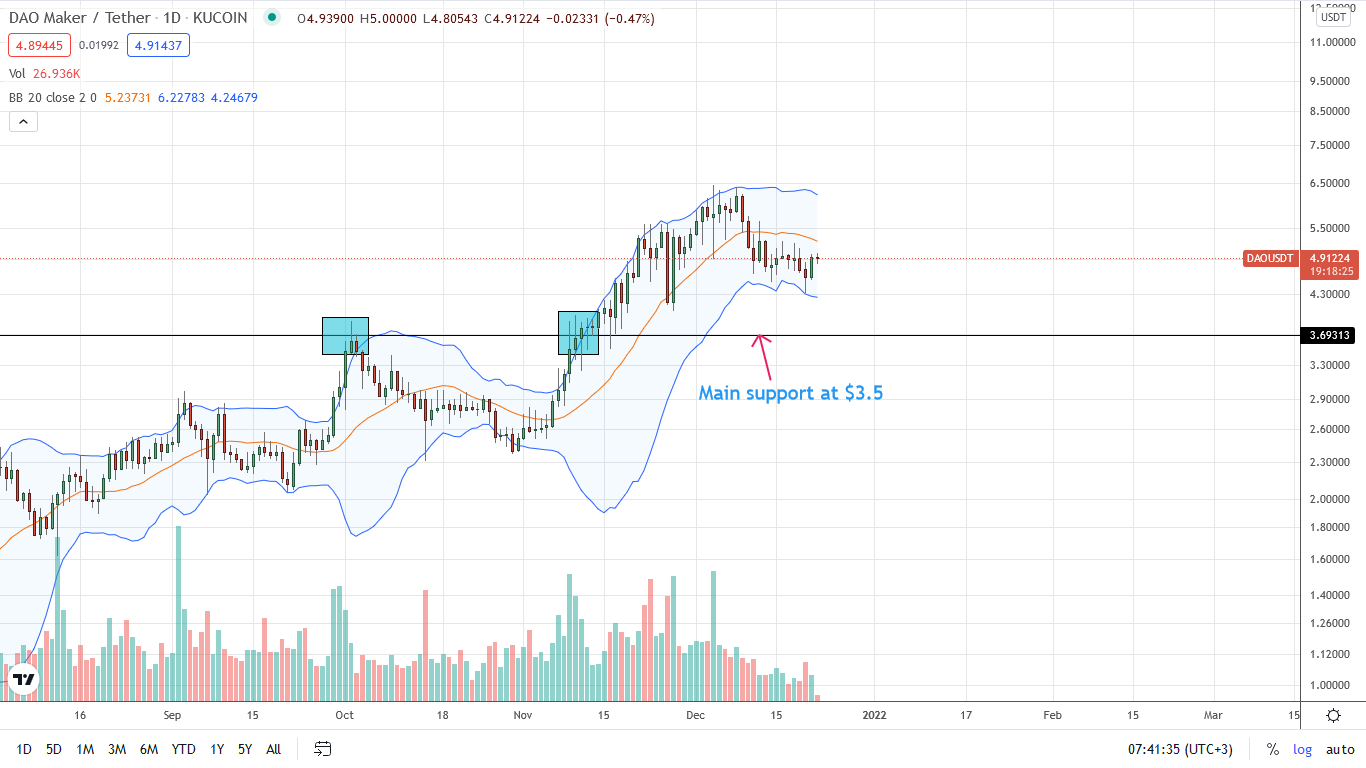 Overall, there are hints of DAO token strength reading from the performance in the daily chart.
As from the DAOUSDT technical chart, the expansion of prices on December 21 is positive. Because DAO coin prices are above $4.3 and, most importantly, at $3.5 buyers stand a chance.
In that case, entries might be available for aggressive DAO Maker coin bulls provided prices trend above $4.3.
Should there be confirmation of December 21 gains, the first target would be November 2021 highs of $6.2.
Day-Ahead and What to Expect
As aforementioned, DAO coin buyers have the upper hand. A close above the middle BB will swing to favor optimistic bulls.
The pace of the rally will be subject to the trading volumes accompanying the breakout. On the reverse side, losses below $4.3 may trigger a sell-off towards $3.5—a key reaction point.
COTI
COTI platform's core infrastructure rides on the DAG protocol. COTI is the main currency of the network.
Past Performance of COTI
COTI crypto prices are moving horizontally, clear in the daily chart. While this may support COTI coin buyers, the asset's price is down over 53 percent from recent November 2021 peaks.
COTI Technical Analysis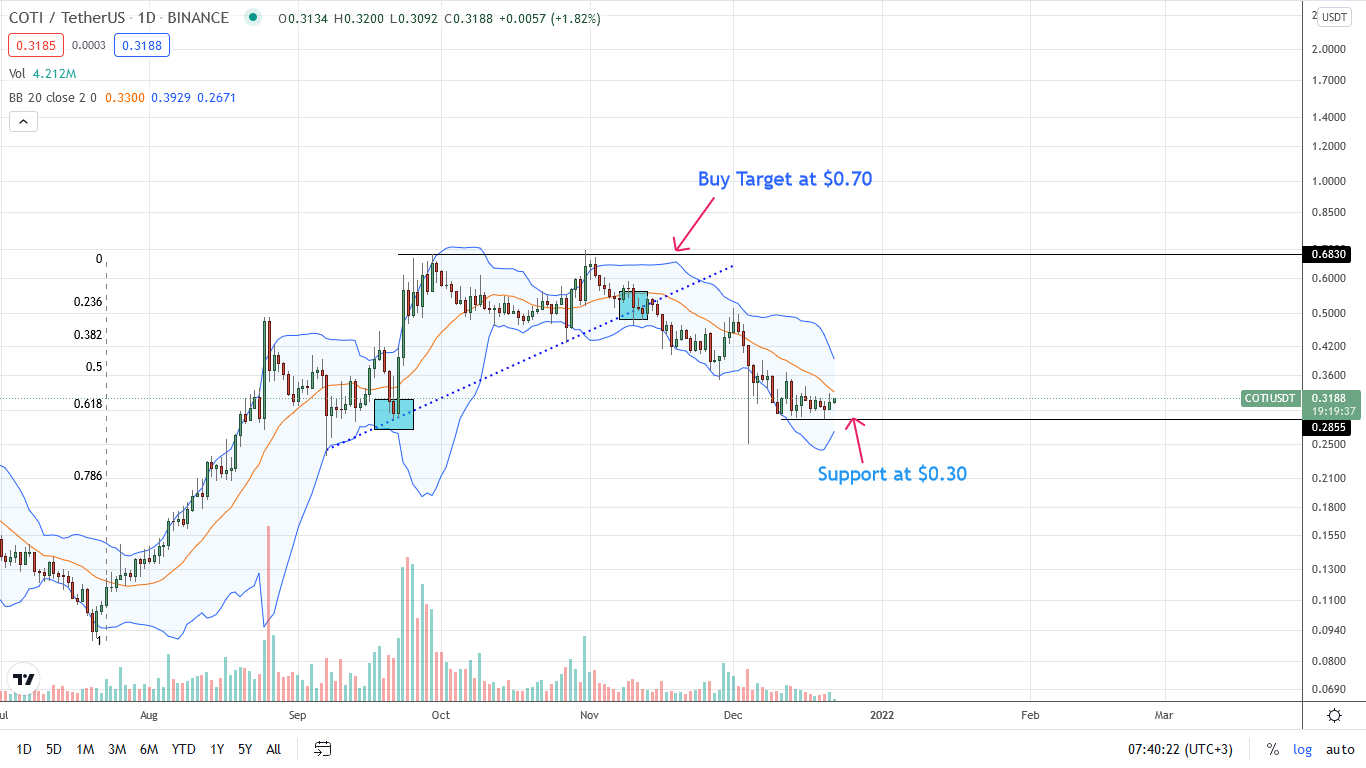 The COTIUSDT price is down 53 percent from recent peaks, as mentioned earlier.
However, COTI coin prices now have support at around $0.30—flashing with the 61.8 percent Fibonacci retracement level of the H2 2021 trade range.
A close above $0.40 and the middle BB may signal changing trend, favoring buyers.
On the reverse side, losses below $0.30 confirm sellers of November 2021.
Day-Ahead and What to Expect
In light of the performance in the daily chart, the chances of COTI coin prices pulling higher above $0.40 remain high.
Nonetheless, this is dependent on participation and, thus, how rapid buyers breach the middle BB.
On the contrary, COTI prices might tank $0.20—the 78.6 percent Fibonacci retracement line — if $0.30 fails to hold.