EGLD Technical Analysis: Buyers Control The Market
After the famous Bitcoin fall on 4 December, other cryptocurrencies split into several camps. The EGLD cryptocurrency has entered a camp of strong and aggressive cryptocurrencies that offer hope for continued growth. If you analyze the weekly timeframe, you can see that the last candle stopped near the liquidity range of $220-$240. This range has followed buyers since February 2021. Initially, buyers did not have the strength to take control of this range. Then, according to the weekly chart, it was decided to take the range by fatigue.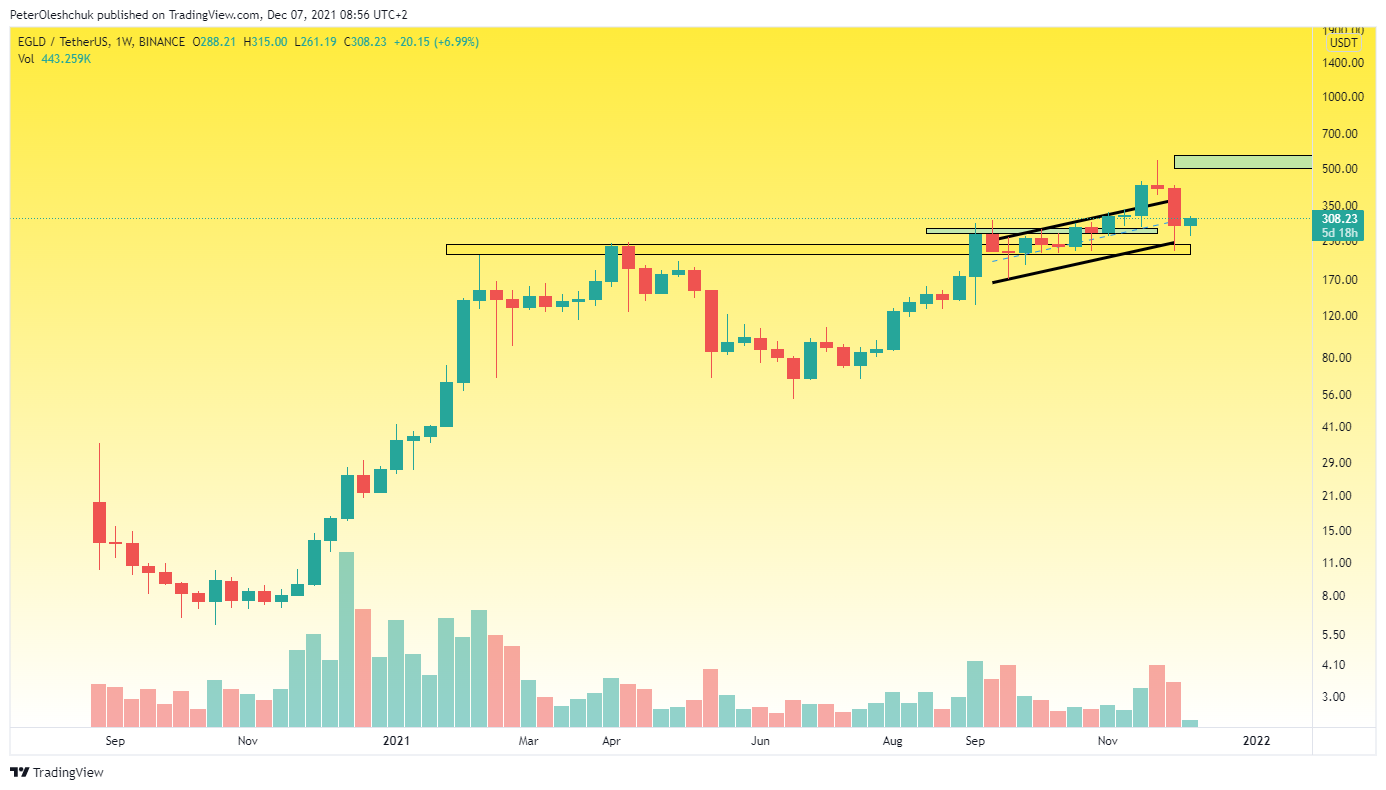 https://www.tradingview.com/x/pgmb3kyn/
Buyers systematically traded the range of $220-$240 during September - October. The result of a confident fixation on this range was a test of $510. This mark was our main target, which we wrote about in the previous analysis. So, buyers realized their ambitions and decided to relax. On 4 February, the EGLD re-tested the strength of the $220-$240 range. The weekly candle has closed above this range. At the moment, buyers are forming a rebound. Compared to other cryptocurrencies, this rebound is quite active. The first local obstacle on the way of buyers to the historical high is at $325. By taking control of it at least on a daily timeframe, buyers will secure support for the $510 test and update the historical high.
Technical Analysis Of EGLD On The Daily Timeframe
https://www.tradingview.com/x/nMkQxeio/
However, in the daily timeframe, there is one more local barrier that will hinder buyers. That is $380. We assume that in the range of $325-$380 buyers can arrange consolidation to accumulate strength. The fact is that the EGLD market from September to October moved peacefully within the black channel. Buyers managed to accelerate the trend and break the upper trend line of the channel on 20 November. However, after the start of the correction, buyers could not maintain control over this trend line and the price again fell within the black channel.
Now, the limit of this growth channel passes near the mark of $380. Analyzing the trading volumes on the daily timeframe, we can confidently say that buyers are keeping the price well. If you look at the situation with other cryptocurrencies, their prices fell without volumes. In this case, we see that during the correction, the trading volumes was increased, but buyers kept an important range.
EGLDBTC Has Been Consolidating For A Year Now
However, we cannot confidently say that sellers have no chance to take the initiative. We are hindered by the tense situation on the EGLDBTC chart. On the weekly timeframe, the price has been moving in a global wedge since November 2020. A year of consolidation has allowed market participants to gather a big position for a powerful vector wave. If buyers can not keep the lower trend line of the wedge - the EGLD market will collapse. Though, given the activity of buyers, we expect more breaking consolidation up.