Helium Network Hits 300k Live Nodes, Making It the Largest Operating IoT Blockchain
After last week's phenomenal performance, Helium continues to show strong support at the $46 level. Currently trading at $45.9, HNT is keeping investors excited amid a recent partnership with Dish.
Last week HNT managed to nearly double in price, rising from $26 and peaking at $51. The big announcement came straight from Dish, stating that they have partnered with Helium's network allowing customers to deploy their own 5G CBRS-based hotspots.
Contents
1 What Is Helium?
2 Helium News
3 How to Mine Helium?
4 How to Stake Helium?
5 Helium Price & Tokenomics
What Is Helium?
The Helium Network is a blockchain-powered decentralized network for IoT. Helium allows communication between wireless devices across their network dubbed "The People's Network."
Helium News
300,000 Hotspots are now on the @Helium Network globally ????!

Just the biggest real-world blockchain. Nothing to see here ????. pic.twitter.com/havIlzF1aJ

— Helium???? (@helium) November 9, 2021
In recent news, looking at the official helium explorer we can see that there are over 300,000 hotspots currently live on the Helium Network. This milestone makes Helium the largest operating IoT blockchain.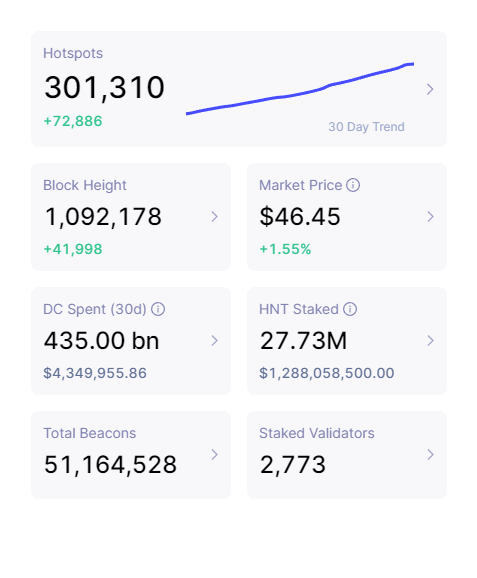 In addition, we can see that there are 27.73M HNT currently staked. With a max supply of 223M, this means over 10% of all HNT tokens are locked up.