Nigeria Freezes Bank Accounts Of Crypto Traders
As Nigeria's crackdown on crypto trading gets dire, the Central Bank of Nigeria orders commercial banks to freeze the accounts of two alleged crypto traders. Their funds have been reportedly asked to be moved into 'suspense accounts'.
On November 3, Director of Banking Supervision, J. Y. Mammanand, addressed to the banks in a Post-No-Debit circular:
"You are hereby directed to close accounts of the underlisted bank customers and place the funds in the accounts in suspense accounts for engaging in cryptocurrency trading in contravention of CBN Circular BSD/DIR/PUB/014/001 dated February 5, 2021."
Triggered by multiple concerns
Early in February, the CBN released a circular addressed to banks and other financial institutions prohibiting transactions in cryptocurrencies and servicing cryptocurrency exchanges.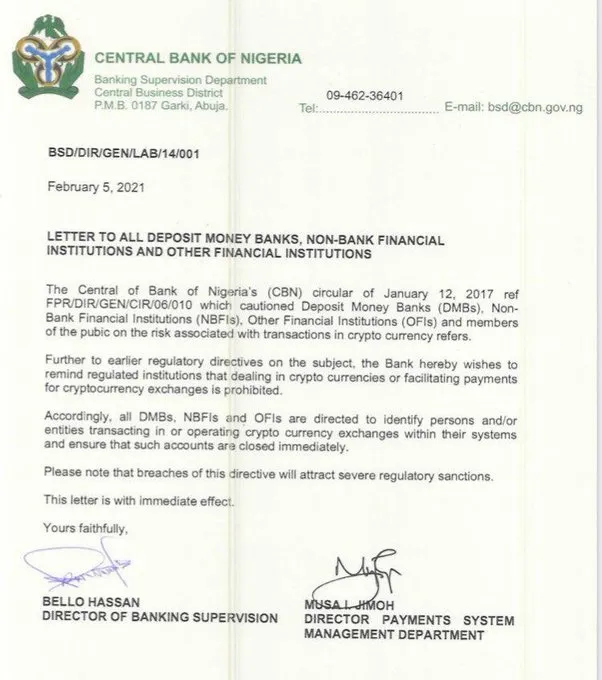 The ban was citing concerns over volatility, money laundering, and funding of illicit activities.
At the 279th meeting of the Monetary Policy Committee in Abuja, Central Bank of Nigeria Governor Godwin Emefiele expressed his reservations against cryptocurrencies. He said that the government will do its best to prevent crypto from being used to finance illicit activities.
"We found out that a substantial percentage of our people are getting involved in cryptocurrency, which is not the best. Don't get me wrong, some may be legitimate, but most are illegitimate," he clarifies.
One of the biggest crypto markets in Africa
The apex bank's clampdown has failed to wipe out crypto activities in the country. Despite the best efforts, the Nigerian crypto market continues to thrive as one of the biggest in Africa. Although traditional crypto exchanges have been banned from operating, peer-to-peer cryptocurrency trading platforms like Paxful come to the rescue. More than to cash in on volatility, Nigerians have turned to crypto to protect their savings as the value of naira (currency of Nigeria) depletes.
As part of regulating crypto without falling behind, the CBN's digital currency eNaira is in the pipeline. It is claimed to be a solution to organizations and individuals seeking fast, safe, easy, and cheap means of payment.